Apple Pay Support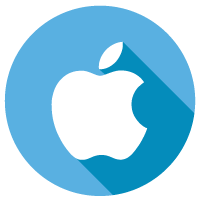 Let Your Customers pay using their Apple device and Apple Pay
Apple Pay provides an easy and secure way for your customers to buy goods and services such as groceries, clothing, tickets and reservations within your iOS 8 app by using payment information stored in Passbook on your customer's iOS device.
Using Apple's Touch ID technology, your customers can authorize payments using the credit and debit card payment credentials stored on their iPhone 6 or iPhone 6 Plus. These models contain a Secure Element, isolating card payment credentials from where your mobile app runs.
When a customer makes an Apple Pay "In-App" purchase, the following steps take place before the payment can be completed:
The merchant's app interacts with the Apple PassKit Framework to obtain encrypted payment data.
The merchant's app forwards the order information along with the encrypted payment data to the merchant's web server.
The merchant's web server sends the encrypted Apple Pay payment data to the gateway using the Mobile SDK, or the Direct Post API.
The Planetauthorize payment gateway decrypts the payment data and processes the transaction.
In summary, merchants must obtain the Apple Pay encrypted payment data within their app using PassKit. Once received, the Apple Pay encrypted payment data is then sent to the Planetauthorize payment gateway API for processing instead of actual credit card information.
To get started with the Planetauthorize Payment Gateway and Apple Pay Contact Us or call SaleManager, toll free, at 1-800-918-4890.
Planetauthorize Solutions