Multi Currency Solution
A standard payment gateway feature from Planetauthorize™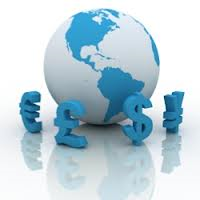 Planetauthorize™ Payment Gateway provides Mult-Currency payment processing services to merchants in over 100 countries including but not limited to the United States, Canada, United Kingdom, European Union (EU) Member Nations, Latin America and Asia.
Process Retail, eCommerce, Mobile and Mail Order/Telephone Order payments in your local currency. Planetauthorize also provides merchants with the ability to accept Retail, eCommerce, Mobile and Mail Order/Telephone Order credit card payments using a single Planetauthorize gateway account. With Planetauthorize you can generate consolidated sales reports to streamline your financial reporting requirements.
Apply for a Merchant Account
Process credit card transactions in your local currency.
USA Merchant Account

Canadian Merchant Account

UK and EU Merchant Account

Latin America Merchant Account

Asia Merchant Account

International (All other countries) Merchant Account

USA High Risk Merchant Account

International (All other countries) High Risk Merchant Account

Merchants can load multiple merchant accounts in a single Planetauthorize payment gateway account, providing the flexibility to accept credit cards in other currencies.
Supported Currencies:
Algerian Dinar (DZD)
Gabon Franc (XAF)
New Zealand Dollar (NZD)
Argentine Peso (ARS)
Guatemala Quetzal (GTQ)
Norwegian Krone (NOK)
Aruban Florin (AWG)
Haiti Goude (HTG)
Nigerian Naira (NGN)
Australian Dollar (AUD)
Hong Kong Dollar (HKD)
Nuevo Sol Peru (PEN)
Azerbaijanian Manat (AZN)
Hungarian Forint (HUF)
Omani Rial (OMR)
Bahamian Dollar (BSD)
Iceland Krona (ISK)
Pakistan Rupee (PKR)
Bahraini Dinar (BHD)
Indian Rupee (INR)
Philippine Peso (PHP)
Bangladesh Taka (BDT)
Indonesia Rupiah (IDR)
Polish Zltoy (PLN)
Barbados Dollar (BBD)
Iranian Rial (IRR)
Qatari Rial (QAR)
Bermudian Dollar (BMD)
Ivory Coast Franc (XOF)
Romanian New Leu (RON)
Botswana Pula (BWP)
Israeli Shekel (ILS)
Russian Ruble (RUB)
Brazilian Real (BRL)
Jamaican Dollar (JMD)
Saudi Riyal (SAR)
British Pound Sterling (GBP)
Japanese Yen (JPY)
Serbian Dinar (RSD)
Bulgarian Lev (BGN)
Jordanian Dinar (JOD)
Singapore Dollar (SGD)
Canadian Dollar (CAD)
Kazakhstan Tenge (KZT)
South African Rand (ZAR)
Chilean Peso (CLP)
Kenyan Shilling (KES)
Sri Lanka Rupee (LKR)
China Yuan Renminbi CNY)
Korean Won (KRW)
Swedish Krona (SEK)
Columbian Peso (COP)
Kuwaiti Dinar (KWD)
Swiss Franc (CHF)
Congolese Franc (CDF)
Latvian Lats (LVL)
Syrian Pound (SYP)
Costa Rican Colon (CRC)
Lebanese Pound (LBP)
Taiwan Dollar (TWD)
Croatian Kuna (HRK)
Libyan Dinar (LYD)
Thailand Baht (THB)
Czech Koruna (CZK)
Lithuanian Litas (LTL)
Trin. Tobago Dollar (TTD)
Danish Krone (DKK)
Macedonian Denar (MKD)
Tunisian Dinar (TND)
Dominican Peso (DOP)
Malawi Kwacha (MWK)
(New) Turkish Lira (TRY)
East Carib. Dollar (XCD)
Malaysian Ringgit (MYR)
UAE Dirham (AED)
Egyptian Pound (EGP)
Mauritius Rupee (MUR)
US Dollar (USD)
Estonian Kroon (EEK)
Mexican Peso (MXN)
Ukrainian Hryvnia (UAH)
Ethiopian Birr (ETB)
Moroccan Dirham (MAD)
Venez. Bolivar Fuerte (VEF)
Euro (EUR)
NL Antillian Guilder (ANG)
Viet Nam Kong (VND)
Fiji Dollar (FJD)
Namibia Dollar (NAD)
Zambian Kwacha (ZMK)
Fr. Polynesia Franc (XPF)
Nepalese Rupee (NPR)
Zimbabwe Dollar (ZWL)
Flexible Payment Platform
Planetauthorize multi currency payment platform allows merchants to accept and process credit card payments in their local currency and determine which currency account to use for payment. Multi-currency products are based upon the simple premise, people are more comfortable paying in their local currency. Multi-currency processing gives international customers the ability to make a simpler and more informed buying decision no matter where they shop, whether in a restaurant, hotel, retail store on online store.




Supported Processor Networks




Planetauthorize provides the industries best mult currency payment processing platform. Merchants may also use their existing merchant account with our secure payment platform as long as their merchant account is pulled on one of our 42 supported processor networks:




TSYS/Vital
Global Payments - East
Global Payments - Canada
Pago
Concord/Buypass
Credomatic (Latin America)
RX-Payments (Israeli platform)
Beanstream (Canadian)
Elavon
Payvision
Santander
First Data (FDMS) - Nashville
First Data (FDMS) - Omaha
Paymentech Salem
Paymentech Tampa
CardWorks StrongBox
BillPro
VoicePay
Elavon
Valitor
any many more...




For a complete list of supported processor platforms Contact Us. To get started with the Planetauthorize Payment Gateway service, simply complete and submit our Merchant Inquiry Form or call SaleManager, toll free, at 1-800-918-4890.
Planetauthorize Solutions